Unprecedented demand for living spaces and office buildings driving the construction surge
Seoul, Korea (PRUnderground) February 2nd, 2019
Over 10 years have passed since the Global Financial Crisis. In the post-crisis years, the world has recovered and, in its aftermath, the global building industry has boomed. There is currently an unprecedented demand for new living spaces and office buildings around the world. While each country and region has its own unique reasons, large construction companies are thriving.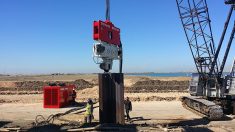 BRUCE Piling Equipment CO. LTD, a piling equipment manufacturer, has provided Hydraulic Vibratory Hammer equipment to respond to various construction site needs around the globe. The increase in global construction has increased the needs for BRUCE's Vibro Hammer thanks to its efficiency, reliability, and versatility.
The world's ageing population has left many countries with needs for new housing. By the year 2050, there will be more the 2 billion people aged 60 or older in the world. This need is one of the reasons the construction industry has soared in recent years. In addition, the rise of newer cities such as Dubai and Abu Dhabi have increased the need for specialized equipment such as BRUCE's Hydraulic Vibratory Hammer. The need for better living and working spaces won't end soon as countries around the globe modernize.
A member of the Shinsegae Powerquip Company, BRUCE is fast becoming one of the leading manufacturing and supply companies in the field of foundation work. Bruce utilizes a number of pile driving equipment pieces including Hydraulic Pile Hammer, Rotary Drilling Head, Vibratory Hammer, and Piling Accessories.
BRUCE's pile driving equipment has been used to complete foundation work on major building projects in the Middle East, Europe, Asia, and the United States. The construction industry changes rapidly and the Korean firm has stayed on the cutting-edge adapting its Hydraulic Vibratory Hammer to the needs of customers.
According to James Y.S. Yoo, President and CEO of BRUCE, the company is constantly developing and improving its machinery to deliver better results. Thanks to the company's continued efforts to make better, more advanced piling equipment, BRUCE has received worldwide praise. BRUCE's pile driving equipment marketed by the Shinsegae Powerquip group is all ISO-9001 certified.
For more information on BRUCE Hydraulic Vibratory Hammer equipment or other pile driving apparatuses, please visit https://www.powerquip.co.kr/.
About BRUCE Piling Equipment CO. LTD
BRUCE has been manufacturing top of the range piling equipment for over two decades. Part of the Shinsegae Powerquip family, BRUCE provides Hydraulic Vibratory Hammers and other pile driving equipment to construction sites around the world. The company's Vibro Hammer has achieved worldwide recognition has an industry standard in pile driving throughout Asia, the Middle East, and Europe.
Media Contact
pr@interad.com
InterAd, Inc.